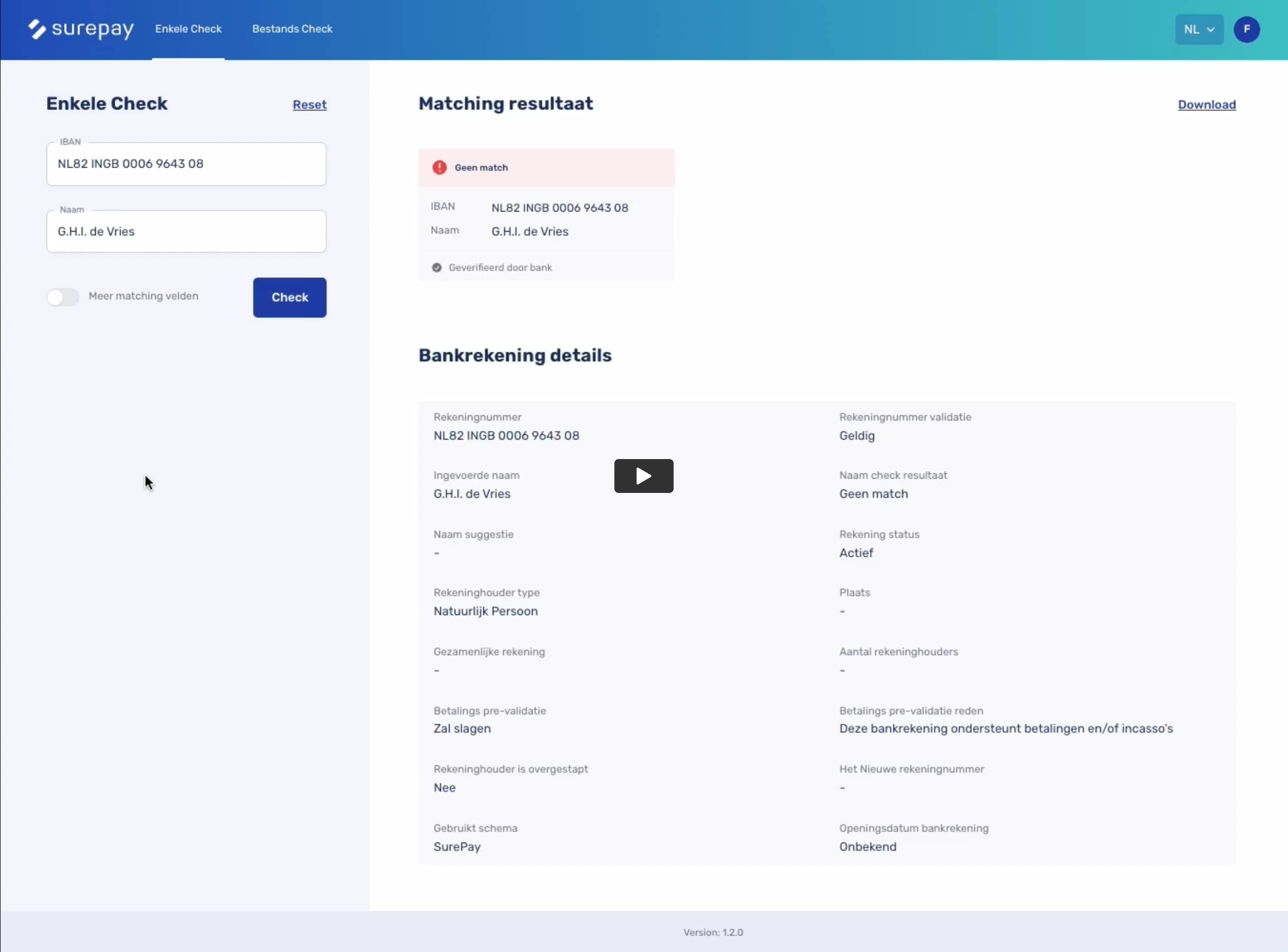 SurePay's mission is clear: we want to prevent payment fraud and incorrect payments. For everyone. Already 215 large companies use the IBAN-Name Check with a built-in SurePay solution. But, from now on, literally anyone can also do this check via our very latest online IBAN-Name Check portal.
What can you do with the IBAN Name Check and why should anyone be able to use it?
The IBAN-Name Check literally does what the name says: it is a check to see if the name and the bank account number (IBAN) really belong together. If this is not the case, you should not transfer money to, or collect money from, an account. Because the chances are very high that someone is trying to commit fraud, or that a (typing) error has been made in the name or the account number.
Currently, almost all Dutch banks already do an IBAN Name Check for transfers between Dutch bank accounts. This check is actually a piece of built-in software provided by SurePay. But also 215 large Dutch companies have already added the SurePay IBAN Name Check to their payment and/or debtor software via an API. In this way, we already prevent fraud for many consumers and business users, or accidentally transfer money to the wrong account. Moreover, this allows SurePay users to have only the correct IBAN-Name combination in their administration. This prevents errors, wrong collections and mistakes (or fraud) when onboarding new customers.
Many (too many) smaller companies have not yet built in the IBAN Name Check. Mainly because they need it much less often. In addition, they often don't always have the IT capacity to integrate APIs either. This is why SurePay now has a solution that is also suitable for entrepreneurs with less (IT) capacity.
Occasional check, or instantly check an entire file
When we say SurePay should be available for everyone, we really mean for everyone. So we have developed the IBAN Name Check portal that you can use anywhere and at any time.
Handy, because with this check even smaller companies can get their processes in order. You can check accounts of customers (KYC) and new employees (KYE), but also of your suppliers (KYS). Even if you want to check an entire file with, for example, account numbers of new subscribers, this can be done in one go via the IBAN-Name Check portal.
For extra security, companies can also (for example) check all payments on a quarterly basis for errors and suspicious transactions. This allows you to act quickly and minimise the damage of any errors and fraud.
So with the portal, SurePay is taking a huge step in its mission to prevent fraud and wrong payments for everyone.
How does SurePay's online IBAN Name Check portal work?
To really give everyone as much space as possible at the online IBAN-Name Check Portal, we have built a fully secure environment. So you always have the right information for the highest security and privacy guarantee.
Starting at twenty-five euros a month, you can perform twenty IBAN Name Checks a month. Would you like to be able to perform several IBAN Name Checks simultaneously? This is possible from 50 euros per month via the portal.
Once you create an account and take out a subscription, you will have access to SurePay's fully secure portal. Here you can perform your IBAN Name Checks every day, wherever and whenever you want. Without having to build in an API or buy any other (expensive) software.
No more time to waste, because with the IBAN Name Check you can reduce your error rate on payments by up to 50% and reduce fraud cases by as much as 80%. Register right now and you will get one month of free access to IBAN-Name Check portal.